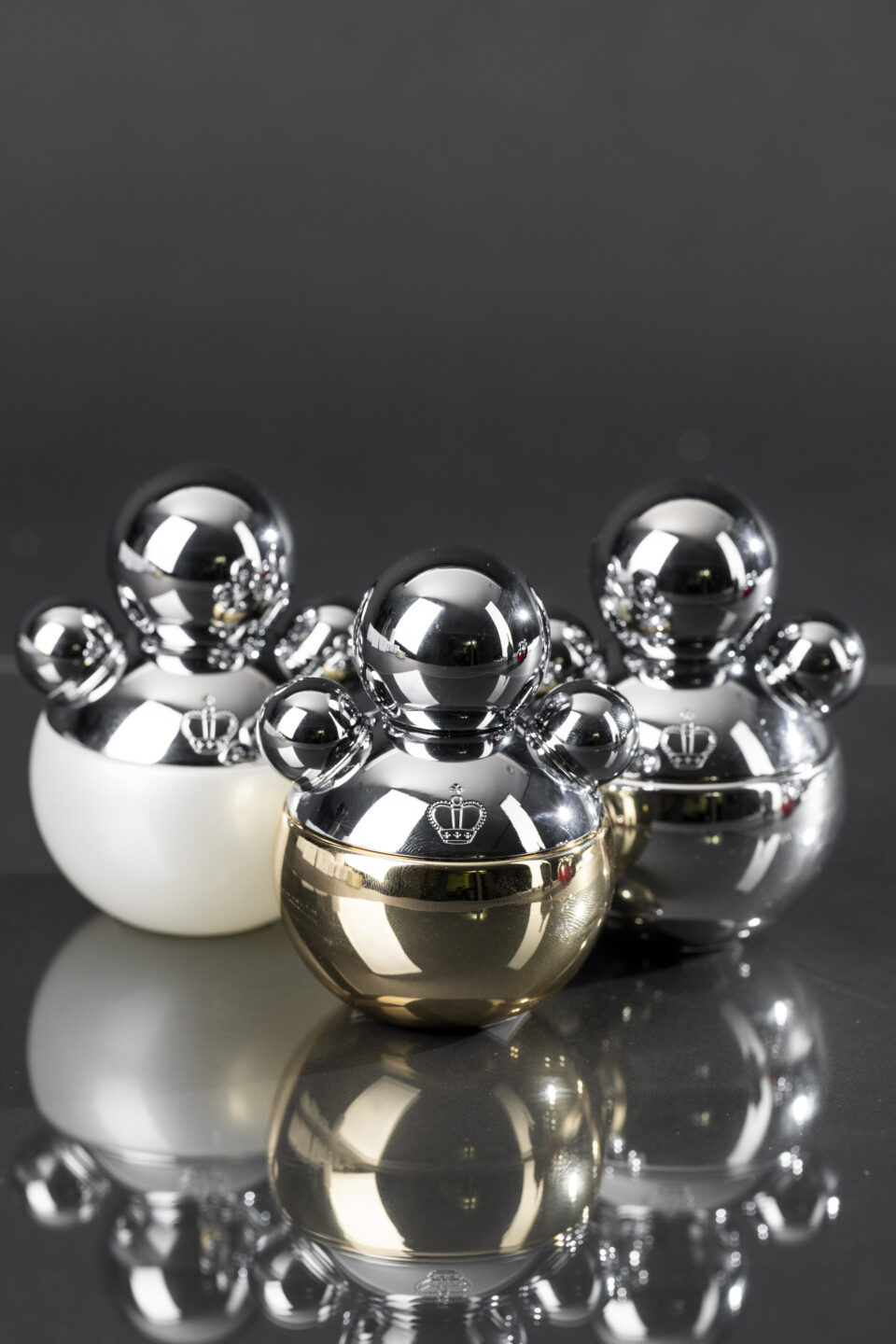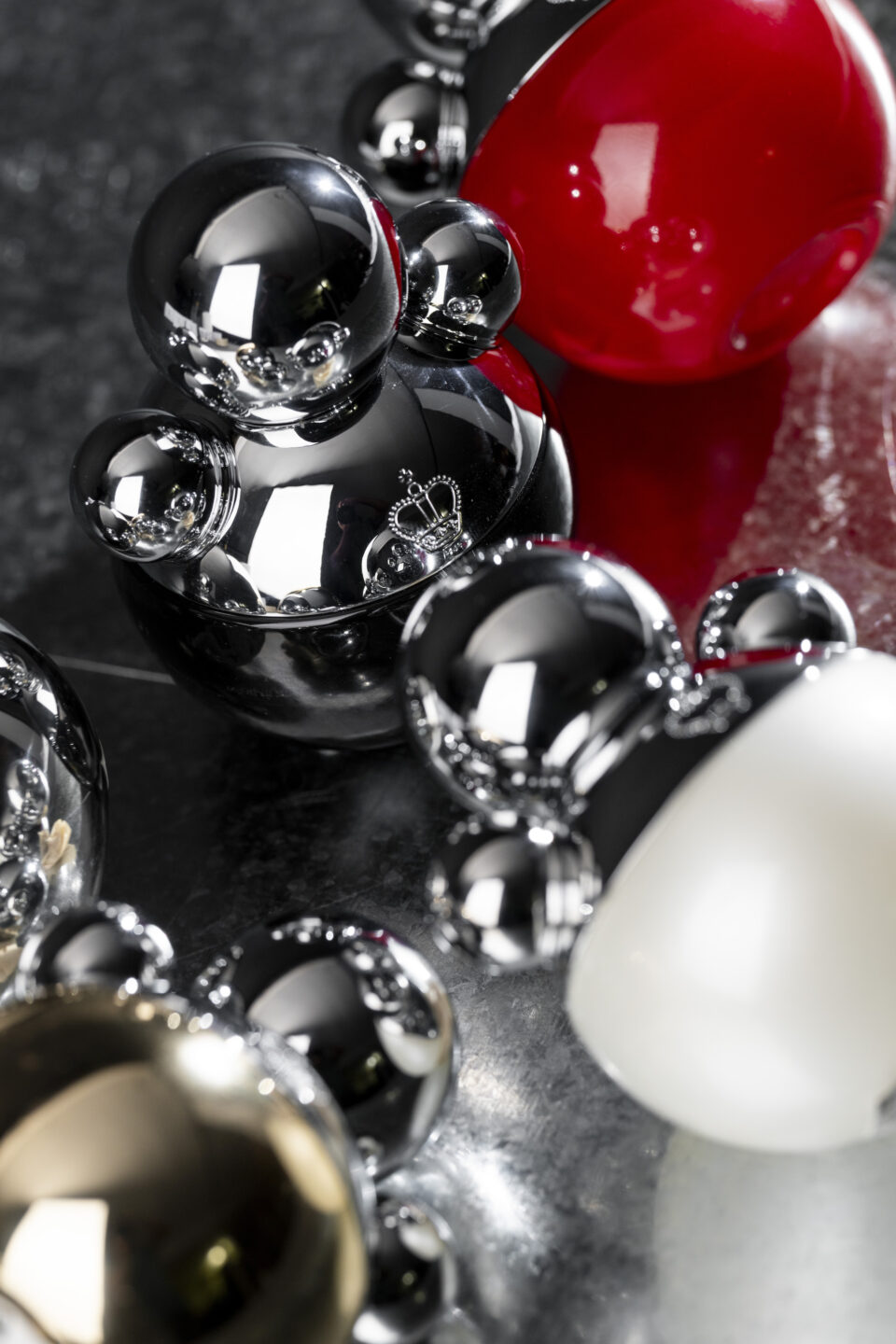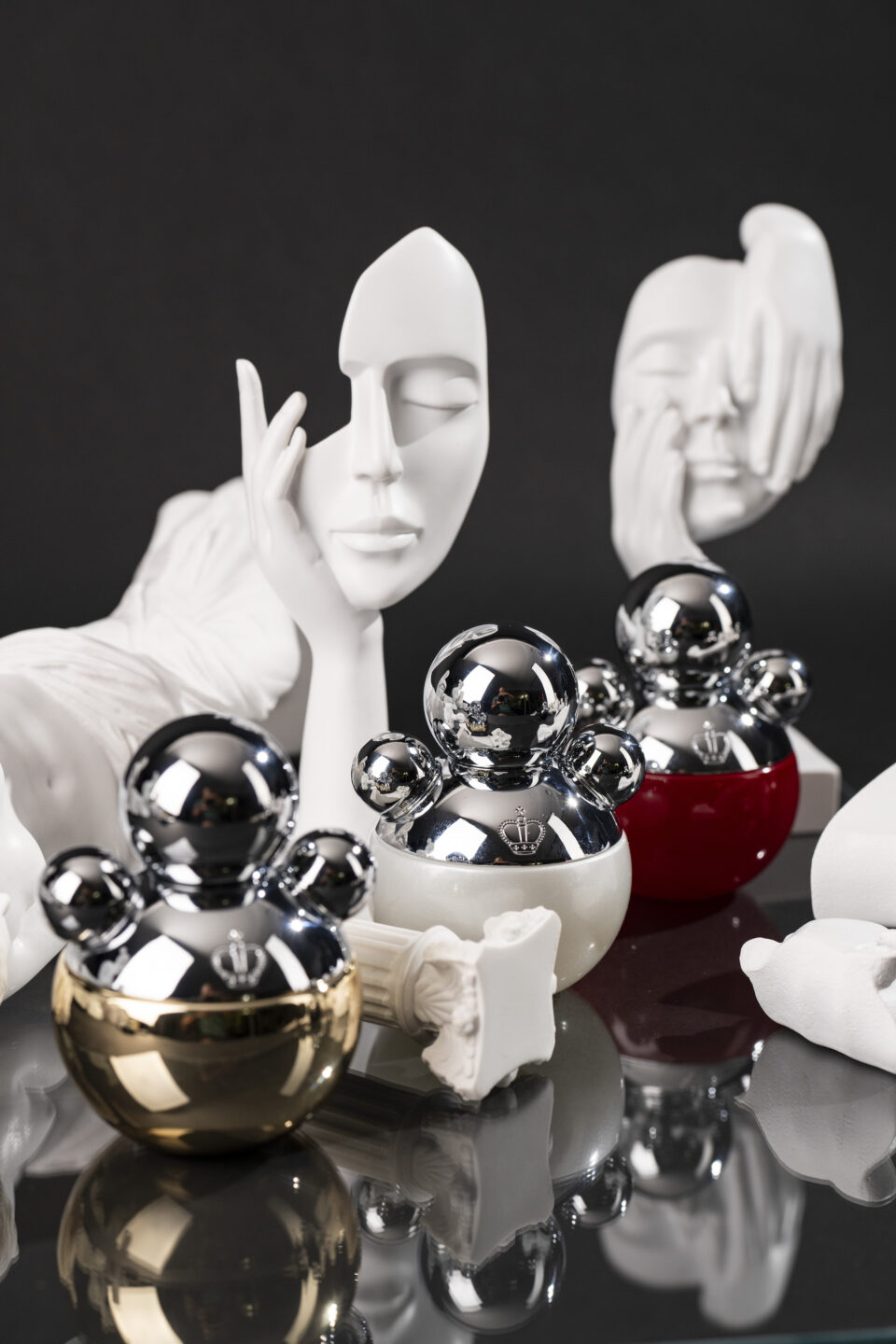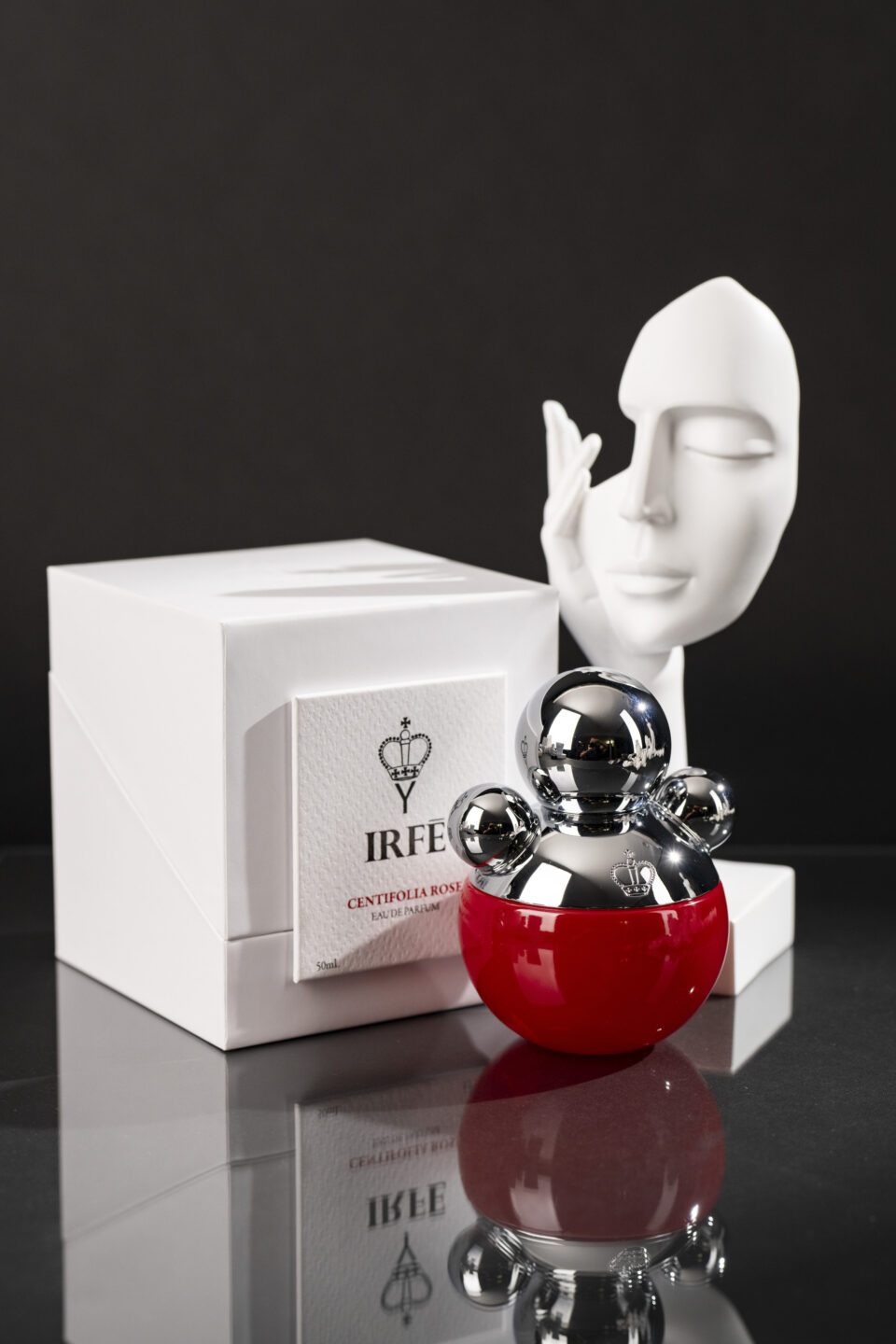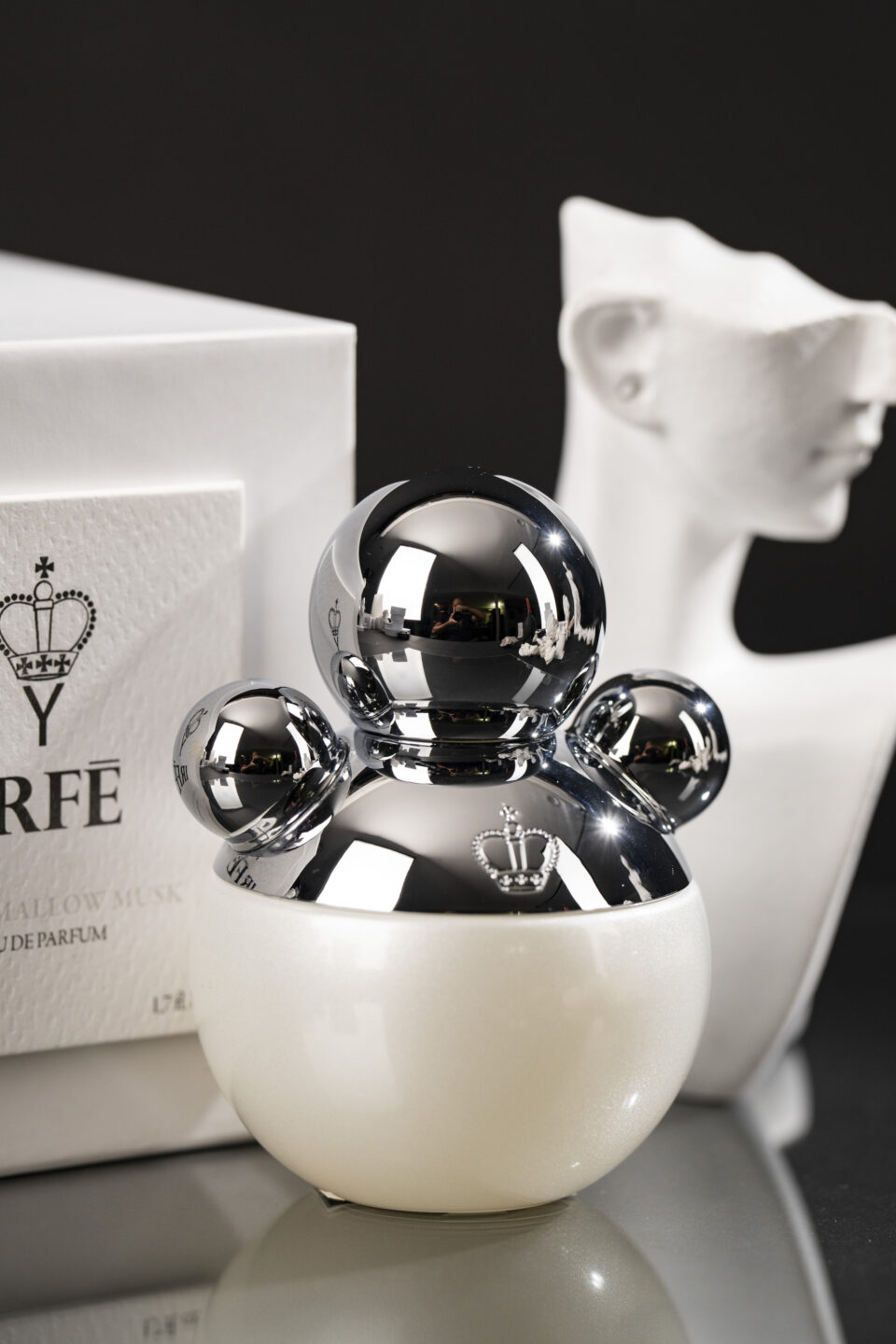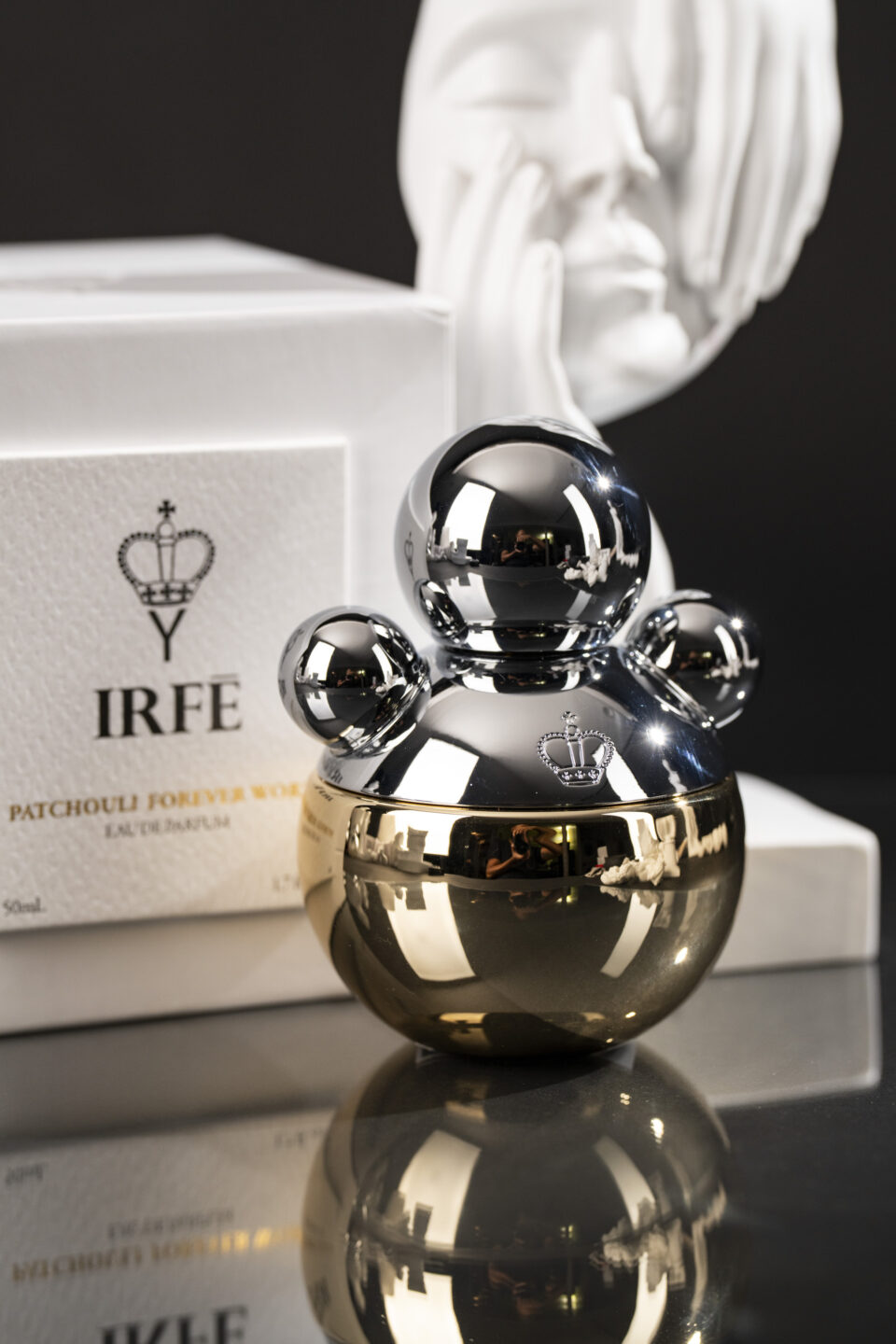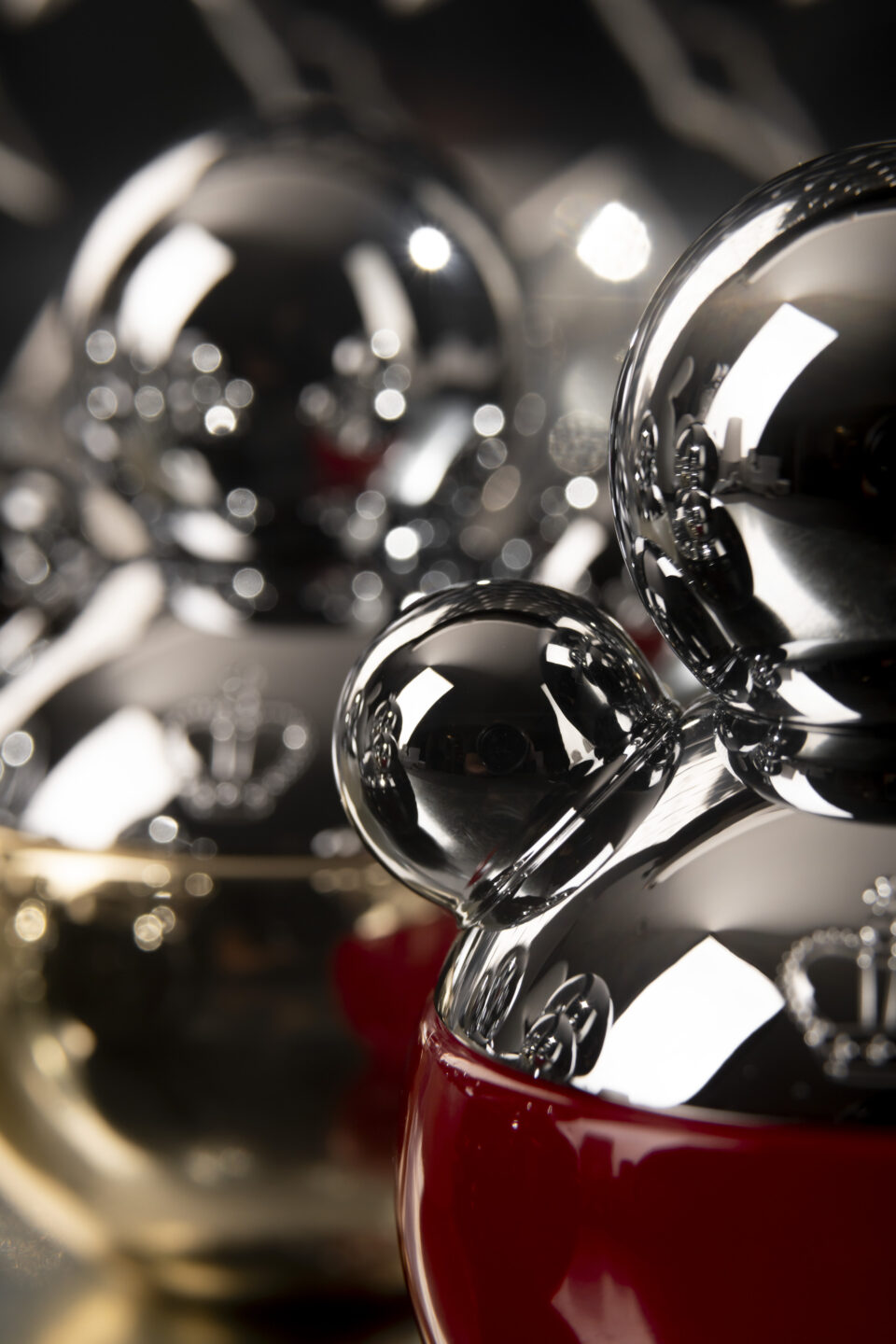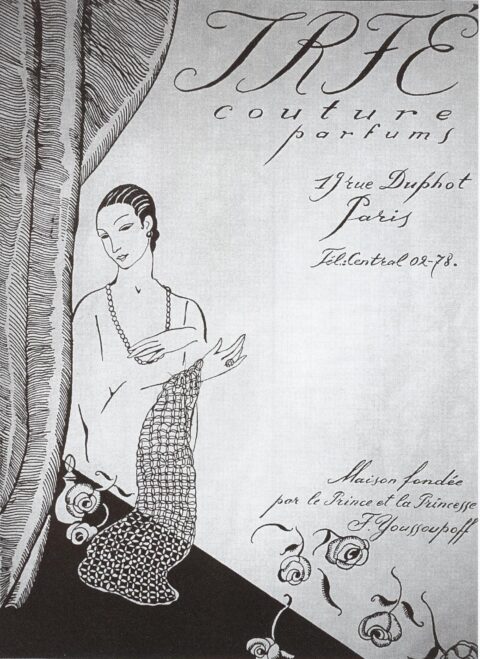 In 1926, IRFE launched its own signature fragrance. The range of IRFE perfumes, was produced in limited editions and aimed four categories of women: Blonde – for blondes, Brunette – for brunettes, Titiane – for brown-haired and finally the noble Grey Silver – for women of an "elegant age". IRFE was the first house to individually target women in such a unique way. Silver Gray was specifically dedicated them to Empress Maria Fyodorovna.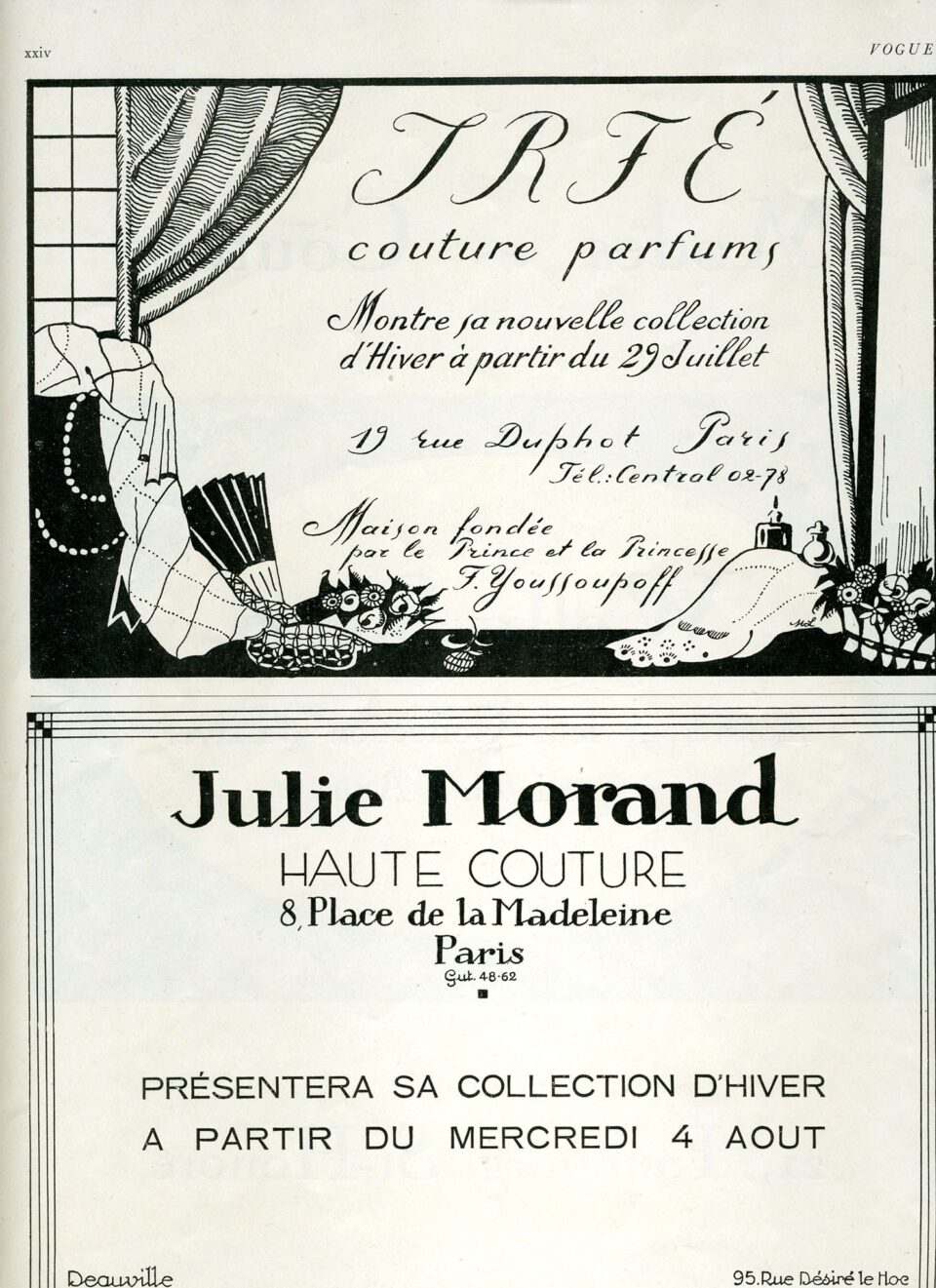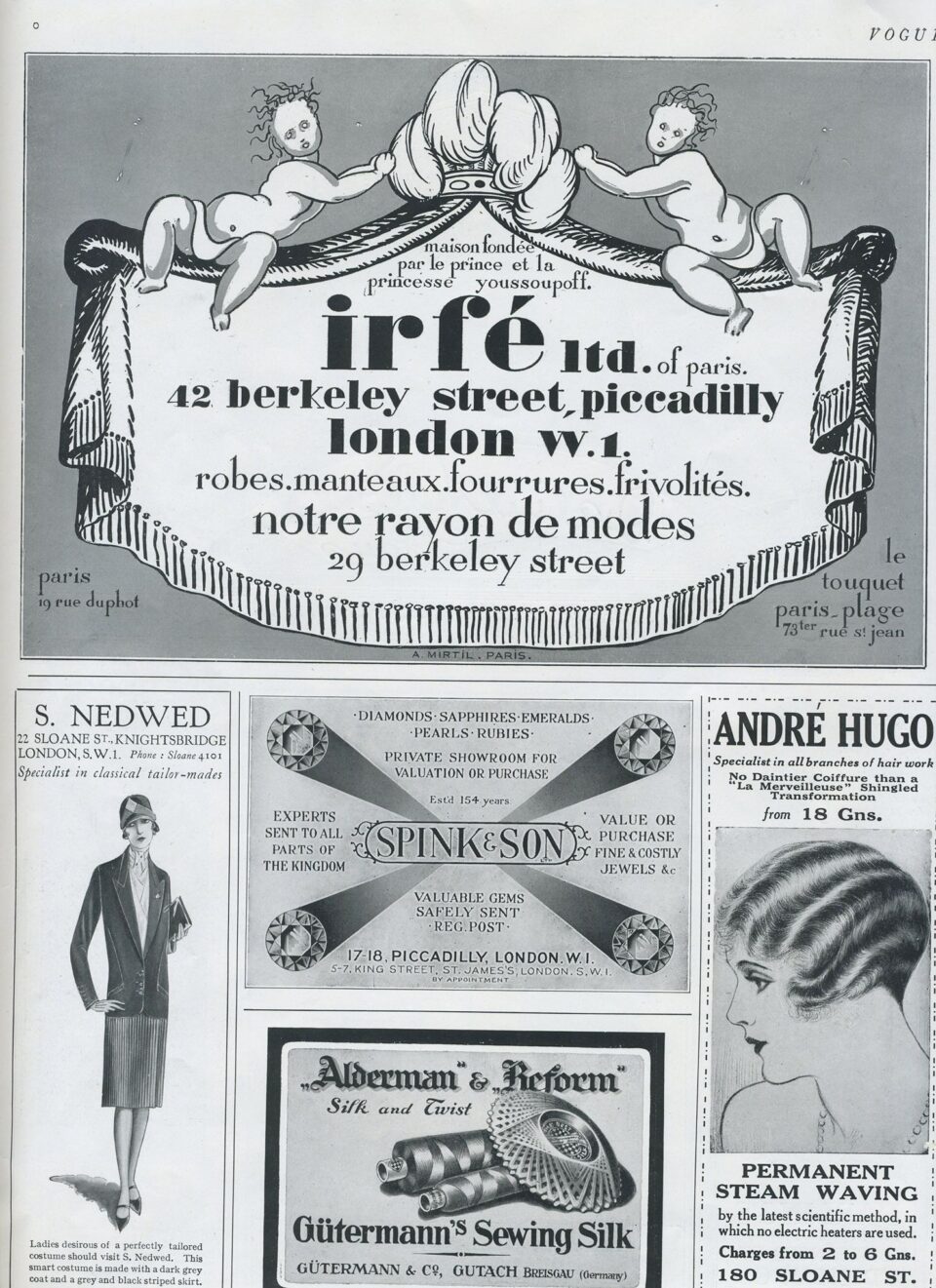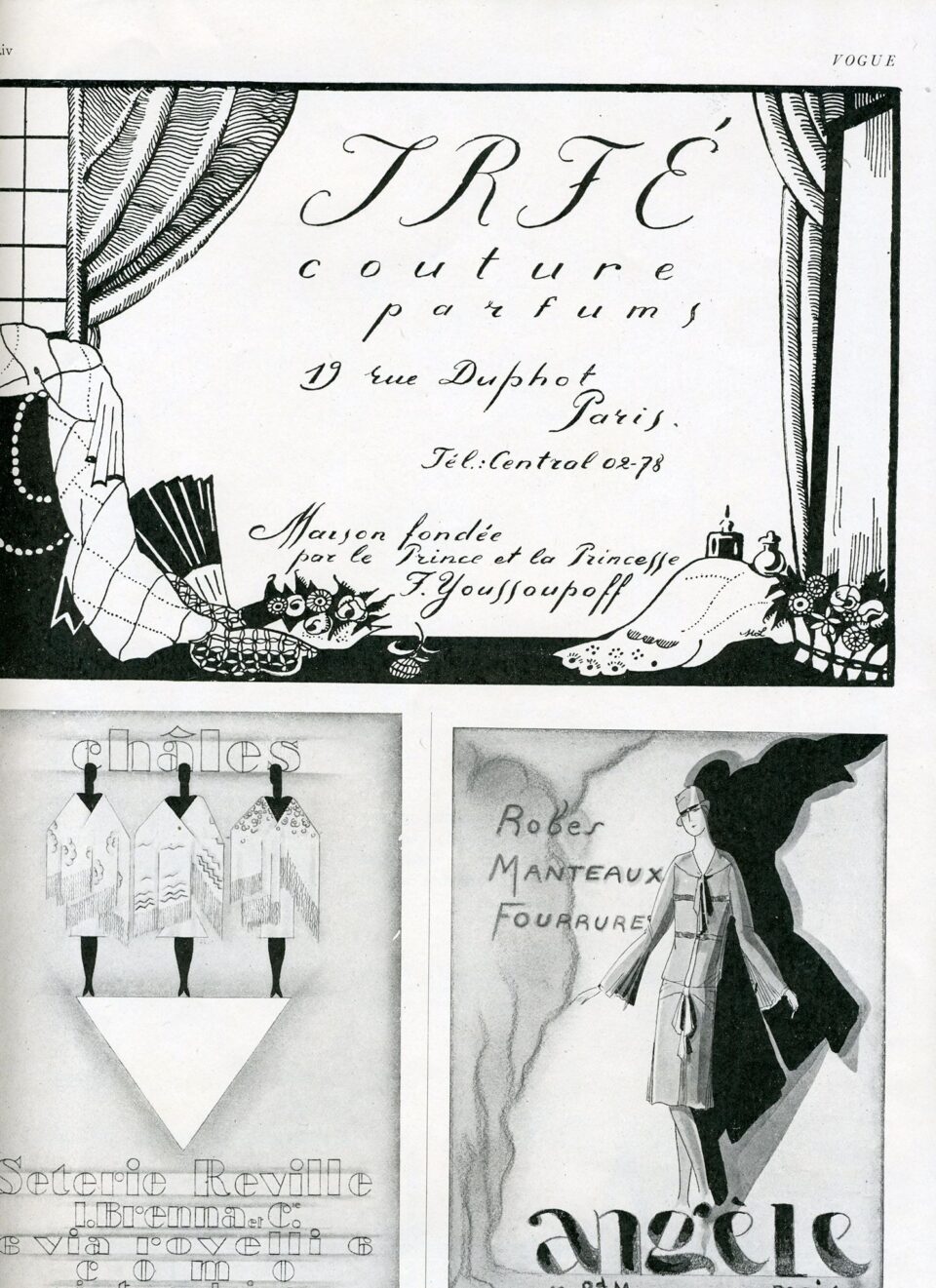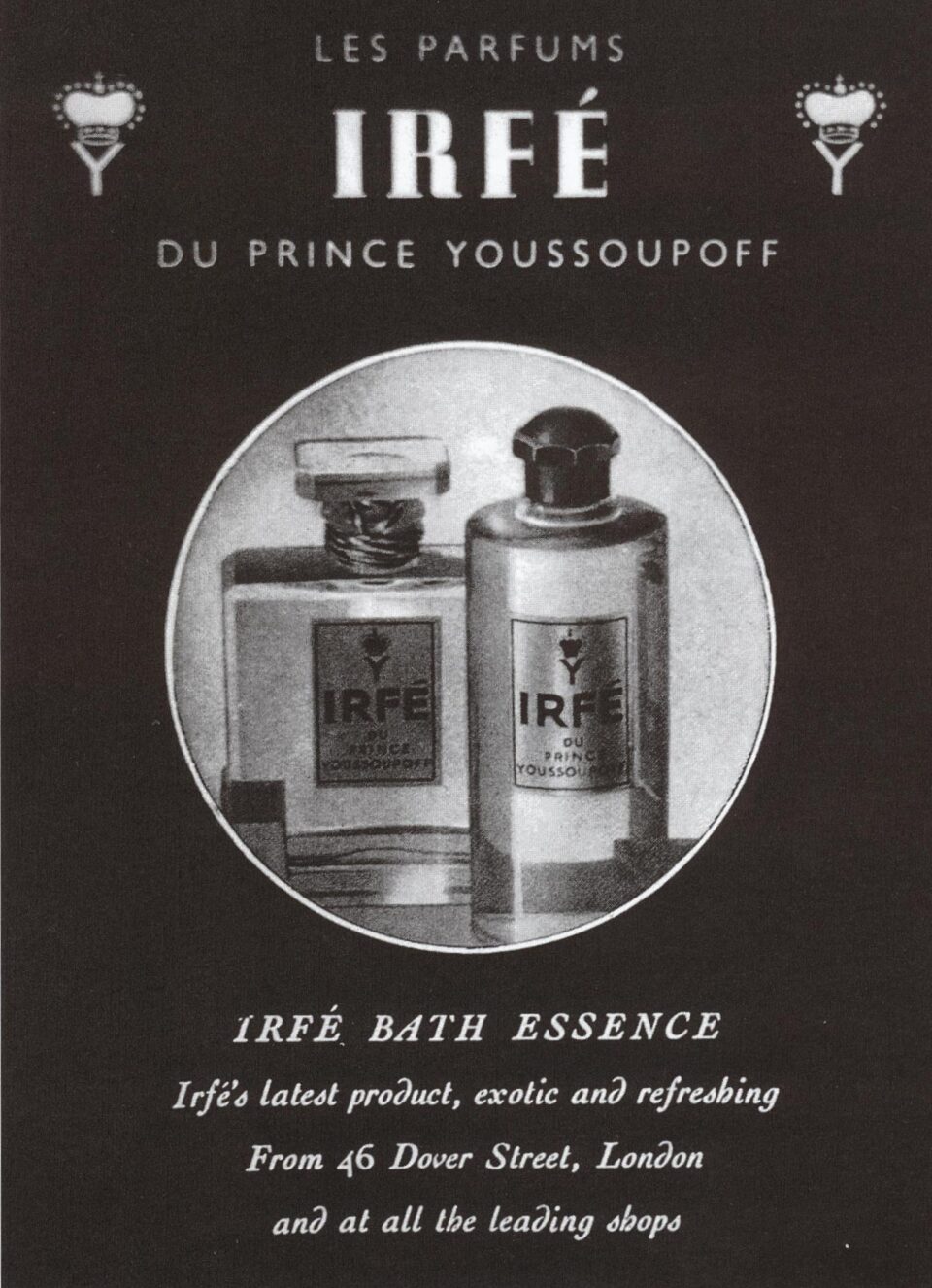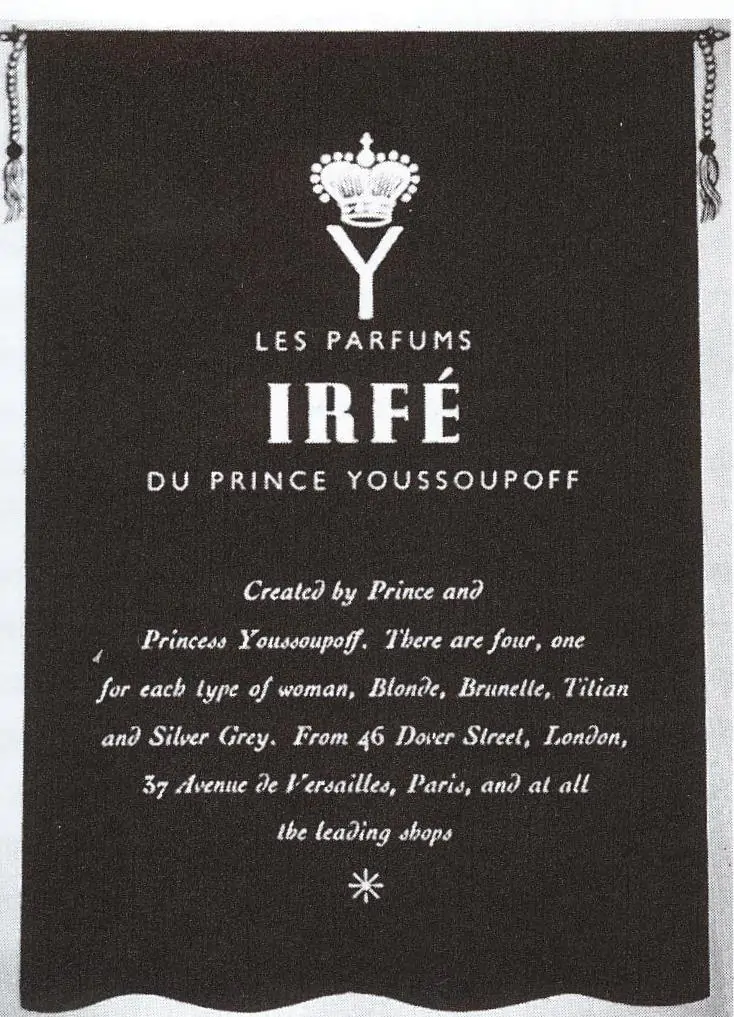 Felix and Irina were the co-authors of the fragrances. Fragrances were produced at Molinard in Grasse. All four versions of the fragrance had a sharp, spicy Eastern quality. The design and advertising poster featuring a rectangular bottle with a faceted black cap was created by Princess Margaret of Greece.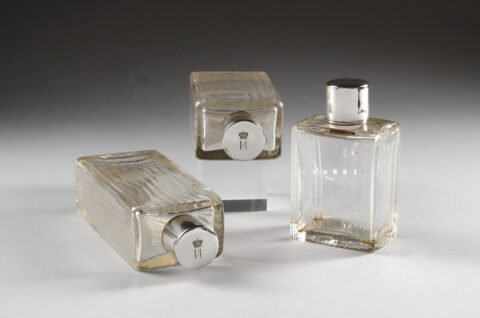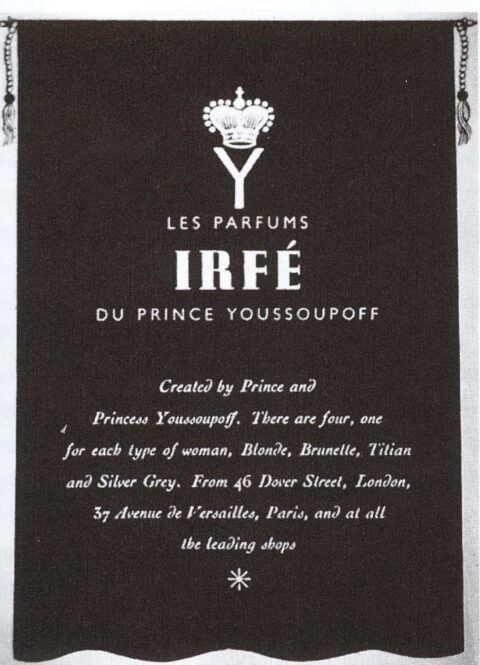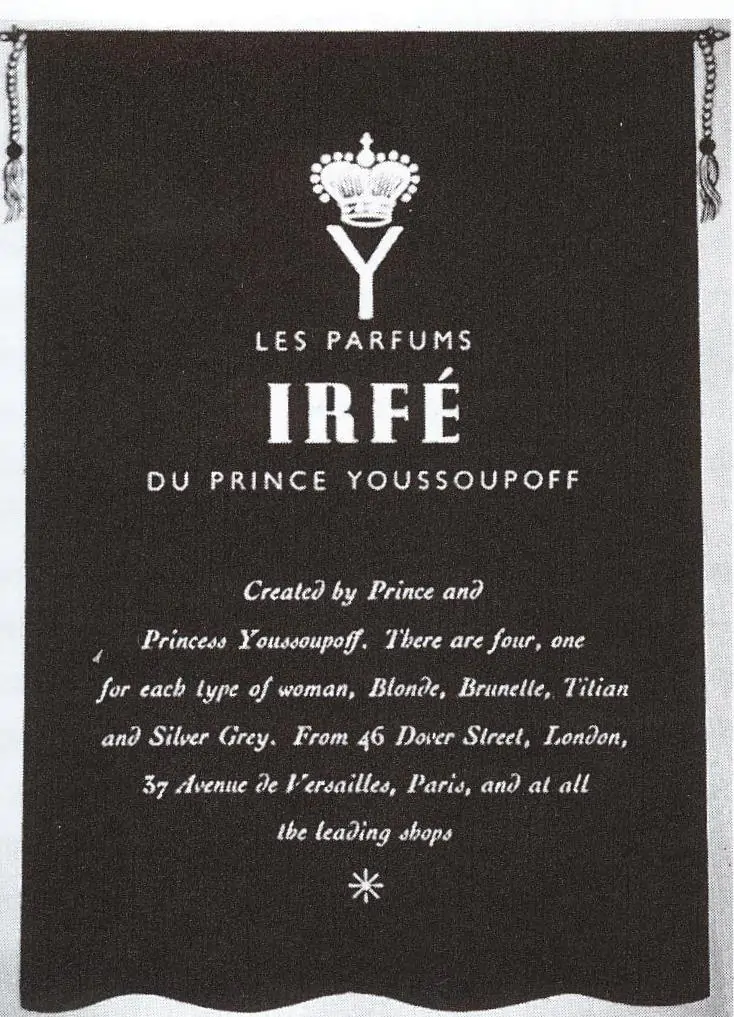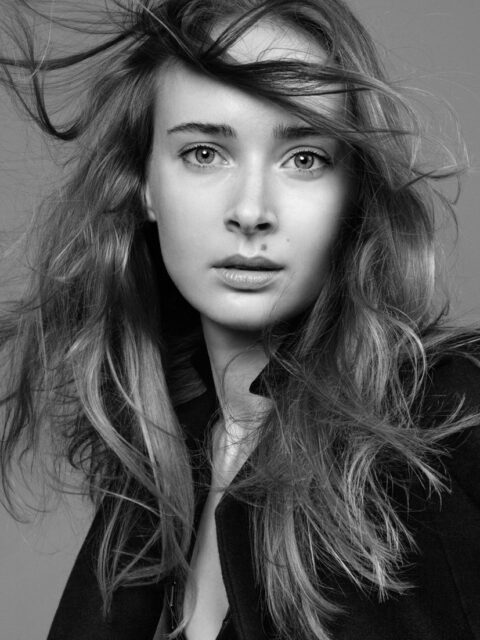 "I was born in Belarus , one of the countries of eastern Europe, in the city of Vitebsk. In my childhood my perception of life was very different from the general classical standards. I didn't fit into any kind of frame, I left my home when I was 18 y.o. I began my journey into the world of beauty and illusion with steps on the catwalk as a model. In 2004 I went to all the fashion weeks – Paris, Milan, New York. I won the title of Model of the Year, for me, I achieved everything. I felt like I should move on, it was a lucky ticket for a girl from a small town. Now turning the pages of my life I realized how important it is to flow from one form to another without losing your identity. I remember that moment when I felt cramped in one role.
I learned about Maison IRFE from the book «Fashion House of the early 20th century» and I got excited about the idea, everything starts from an idea. IRFE – it's chic, it's Paris, it's high fashion, beauty, love story, drama, I was inspired. I, still, after 15 years of my career for the brand, cannot clearly define my position, I called myself a Fashion Artist.
In 2008, inspired by the history of one of the oldest fashion houses which was founded in Paris in 1924, I began reviving it. It was unforgettable … our beautiful office on Rue de Foubourg Saint Honore, 4 floors, a beautiful atelier on rue Vivienne, and all these shows at Place Vandome.
Maison IRFE brought me to Paris where I spent 8 wonderful years of my life, where my eldest son grew up, I wanted everything to look as the brand had not stopped its activities for a century. I was in my early twenties and all my collections that I made for IRFE were ultra – modern and fashionable, it was an absolute success, both creatively and commercially, products were sold in 30 countries in 200 different multi brand stores around the world. At some point I realized that I had left for commerce, it seemed to me that I had lost myself , lost my goal, my main idea from the beginning was to create beautiful gowns for joy, not to sell them as much as possible.
In 2016 I decided to change everything. I moved from Paris to NYC, where my second son was born, and revised the brand's philosophy and strategy. As a result Maison IRFE switched to the production of a couture collection. I wanted more creative freedom, I wanted to be more private, I wanted to express the women I dress. I don't know if I'll go back to retail, I wanted more focus on the heritage. IRFE today is high fashion, based in NYC, creating capsule collections of cocktails and soirée gowns.
I love my little showroom on the 5th avenue. Uptown reminds me of Paris when I miss it. IRFE is no longer engaged in the Prêt a Porte line, and is interested in collaborations with artists. I no longer see the point and interest in creating clothes for everyday use… I can describe myself as an eccentric person who does not like to be confined by the rules of others . I love living in my own world…
In 2024 Maison IRFE turns 100 years old, and I am more than happy to introduce my new project here in NYC, which I have dreamed of for many years since Paris, which I and the best experts have been working on for the last 12 months – my new fragrance line, inspired by women's characters, by women I know and I love." – OLGA SOROKINA
FRAGRANCE COLLECTION: INSPIRED BY FEMALE CHARACTERS
"From my 15 years of experience as a womenswear designer, I created a bottle, that looks like a doll. I would like to dress my dolls by emotions.
I want to dedicate my fragrances to 5 main dresses with different characters. To make it easier for woman to choose perfume, I want to separate them according to fragrance notes, moods and dresses that they like to wear.
For me, there is no age, skin color and nationality. I love woman who live by their emotions more than by reason, outside of the general standards.
Generally, I love women, who love life, love to live, know how to enjoy it, and not follow a series of responsibilities that this world imposes on us. I like eccentric women, who love change, a change of seasons, a changes in weather or landscape outside the window …
For women who love to be an individual, interesting, uncompromising, spontaneous, having her own opinions. Holding her own unique and different point of view." – OLGA SOROKINA